From Nov 2017 Newsletter…
Michael points out the apartment window to the fall foliage that's marked the change of seasons since his arrival at the NIH and reflects on facing the biggest medical challenge of his life. He's had plenty of reasons to be anxious about the bone marrow transplant he recently received to treat his rare blood cell disorder, GATA 2 deficiency. But he's optimistic.
Michael's father, two sisters and a brother all died of the GATA 2, which is often misdiagnosed as a blood cancer. The treatment is a bone marrow transplant. Michael's siblings each had the procedure; sadly, all died shortly after.
Why is Michael's prognosis far better? The donor for his siblings was another brother, Paul. Unfortunately, Paul later developed the same disease and, unknowingly at the time, passed it on via the transplants.
But when Michael and his wife, Karen, arrived from Utah in early September at the NIH Clinical Center, the nation's largest research hospital, he immediately knew his experience would be different. "I'm healthier now six weeks out than all of them were," he said. And the care is at a level far different than what his siblings experienced. "The NIH is amazing," Karen added. "On a DNA level, they are diagnosing problems before he even feels them."
The challenge of Michael's treatment has been compounded by being far from home. "I have a teenage son, a mother-in-law with a heart condition who lives with us, I can't work, and my wife is on leave from her job," he said. "We needed a clean affordable place to live here for three months." The family didn't know where to turn. But their social worker introduced them to Friends at NIH, and we provided the nearby apartment Michael and Karen now call home. "To have this beautiful place to come to and just relax, with all the emotional and financial stress has been incredible, "Karen said., "It is like heaven. We can't thank you enough."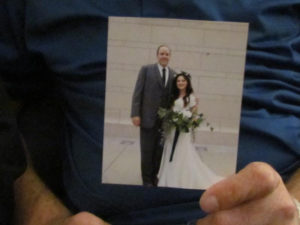 Michael and Karen are from St. Georges, a southern Utah town of 60,000. Both were fully employed before he became too sick to work and she became his caregiver. Before leaving for the NIH, their 21-year-old daughter, Alison, asked if she could push up her wedding date – knowing there would be no guarantee Michael could walk her down the aisle later. They quickly planned a wedding.
Michael and Karen hope to be home early January. Meanwhile, in the apartment, Michael is happy to sleep through the night — a rare luxury during critical treatment. Friends at NIH apartments are in high demand; the waiting list continues to grow. You can help families like Michael and Karen with a tax-deductible donation. An $80 gift covers rent for a day — $2,400 covers a month. Please consider helping to support a place to heal this giving season.