Anastacia Longenderfer Dougherty was born on April 10, 1982 in Danville, PA. She was influenced by the various places she lived during her life including small towns like Terre Hill and Mechanicsburg in PA, and large cities like Oklahoma City, New York City and lastly Philadelphia. She also travelled to Mexico, Italy, Spain, Switzerland, Germany and France. This variety of cultural environments enhanced her creative gifts through art, writing, photography and dance. After graduation from Pennsylvania State University her first adventure took her to New York City where she gained experience as a writer and media relations consultant with firms including Macy's headquarters.
However, Ana's passion and energy blossomed in Philadelphia after marrying Christopher Dougherty. The couple created a home where Ana experimented in culinary arts reflecting the same sensory enjoyment expressed throughout her life. The addition of Bedford, a highly energetic Golden Doodle, only verified what friends and family knew already. Ana's capacity for sharing and creating a loving spirit was unbounded.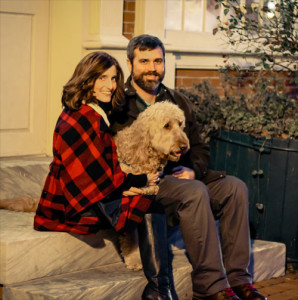 In 2009 Ana was diagnosed with cancer. After successful surgery she enjoyed 3 cancer-free years and hope for the future. When the cancer recurred she revealed another attribute known to her family but not necessarily recognized by others. Ana's strength during adversity was her hallmark. Her intrepid spirit drove Ana to NIH where she participated in two clinical trials and found nurturing care united with a hopeful clinical mission. Ana died early in the morning March 12, 2015 surrounded by her extended family. Ana's wit, quiet strength and beauty live within all who met and knew her.
… a symbol perfected in death and
all shall be well and all manner of things shall be well…
Julian of Norwich
ANA's IMPACT
The goal of the project to honor Anastacia Longenderfer Dougherty is to create and expand a funding source for the creative arts, family support, and other programs for patients and their families seeking care at NIH.  We would like to have a special, but not exclusive, focus on patients placed in isolation while undergoing treatment at NIH.  Patients would be provided with various arts therapy projects like bookmarks, jewelry boxes or other options of the patient's choice to encourage creative activities while experiencing long periods of idleness and restrictive movement.  While Ana was a NIH patient some of her best moments were spent doing creative activities, but those activities were limited during periods of isolation.  This fund would help expand those opportunities.
Also, families or couples with financial limitations would be able to experience fun dates while recuperating off campus.  While recovering Ana and her husband Chris enjoyed off-campus activities that enhanced their NIH stay.  Not everyone can afford to do this and Ana's Impact would help fund the patient's ability to experience a respite in treatment.  Ana truly believed in NIH clinical trials.  She only hoped more people could experience NIH and its healing mission.
Please send check donations to -Friends at NIH, P.O. Box 340139, Bethesda, MD 20827 – on memo line add – Ana's Impact
For online donations please click here.