Michael Bruhn had a natural swing.
"He was just the kind of person who innately knew how to hit the ball," says his mom, Kimberly. "He just loved it. He was determined. He would spend hours at practice just to work on his swing."
Which was a good thing. Because for a teenager who is battling chronic Leukemia, it can be hard to find a team sport that can accommodate frequent and unscheduled visits to the hospital for treatments. "His first love was baseball," says Kimberly, "but he gave golf a try and he fell in love with the sport."
Michael was diagnosed on February 5, 2008, just one month before his twelfth birthday. At first, the doctors where he was treated at Dornbecher Children's Hospital in Portland, Ore. considered his to be a "textbook case," explains Kimberly, when his body responded well to his initial treatments and he was on track and in remission for the first three and a half years. But just three days before his "all clear" deadline of May 13th 2011, the Bruhns got some upsetting news.
Kimberly recalls the moment things changed: "When you get a call from an ongologist at eight o'clock at night, it's never good." It turned out Michael had relapsed. His doctors at Dornbecher had sent his bone marrow to the NIH facilities in Bethesda for testing, and the results showed signs of more cancer. "The NIH processing technology had improved so much in those few years, and they were able to detect the tiniest part of the cancer in his system."
The prognosis was grim. Without many options, and after consulting with his team of doctors, Michael and his parents traveled to the NIH Clinical Research Center in Bethesda so he could participate in phase one of a trial for an innovative type of treatment called Chimeric Antigen Recepter T-Cell (CART) therapy. Michael – with his sharp mind and intellectual curiosity – devoured information about the treatment and was very thoughtful about taking this path. "What else could I do?" Kimberly recalls him asking, when confronted with papers and debates about the ethics of children participating in clinical trials. He was decisive: "I want to live."
Michael ended up participating in two trials at the NIH. His family was able to stay on campus with him, at his side, thanks to support from the NIH patient charities. When Kimberly thinks back on that formative time in both of their lives, what she remembers most are the people that touched Michael's life. She remembers how Nurse Tina and Nurse Melanie at the Clinical Center stayed up late at night to keep Michael company, playing cards with him on the days when he was so full of medication that he couldn't sleep. And how, on his birthday that year, during a late-season March snowstorm, one of the volunteers at the NIH trekked out into the storm to find Michael an ice cream cake – "his favorite kind."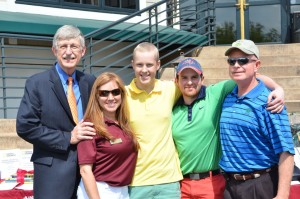 Kimberly and her family were grateful for the support that allowed them – and other families that they got to know – to spend that critical time with Michael during his treatment. "For an organization to be able to help support families and help them pay bills so they can be here, so they can keep the gas on back home… that makes a difference," she says. "It's the difference between finding the will to go on and feeling that you can't go on any longer."
In the spring of 2013, Michael's health was on the decline. The trials hadn't worked, and his body was particularly frail. But Friends@NIH had their annual golf tournament at the Argyle Country Club coming up and the Director of the NIH, Dr. Francis Collins, had gotten wind that Michael Bruhn loved to golf. "Michael was very weak, and his doctors did not want to let him go," recalls Kimberly. "But at the last minute they said 'okay.'" And so he went. And he nailed it. "He drove the ball almost 280 yards at one point. He kept up with his team, and they ended up winning the tournament. They had an amazing score."
Shortly after, in August of 2013, Michael lost his battle with Leukemia. In memory of his spirit, his drive, and the massive contribution he made to the NIH and research that will benefit future generations yet to come, Friends@NIH has named the prize for our annual golf tournament in Michael's honor.
Asked what Michael would think of such a gesture, Kimberly smiles. "What would he say? Well, I think he'd get a kick out of that."
Join us this May 7th, 2015, at Argyle Country Club  as we raise funds to help more patients like Michael and mothers like Kimberly, and as we honor Michael's memory by awarding with the first ever Michael Bruhn trophy to the winning team.