Meet some of our heroes
Dixon: Medical Hero
Meeting Dixon, you might not guess that behind his bright smile and shy demeanor is a 16-year-old medical hero.  As a young child growing up in Uganda, Dixon and his older sister were diagnosed with Sickle Cell Anemia, a life-long and potentially life-threatening condition.
Sickle Cell Anemia (SCA) impacts the hemoglobin found in red blood cells and compromises the body's ability to move oxygen from the lungs to the rest of the body.  Red blood cells are typically disc shaped, providing them flexibility to move through small blood vessels.  With SCA, the red blood cells instead form a crescent or sickle shape when oxygen levels fall.  Hemoglobin shaped like this causes blockages in small blood vessels, leading to sudden and severely painful episodes, frequently requiring hospitalization and transfusion.  The complications of SCA very often mean a shortened life span.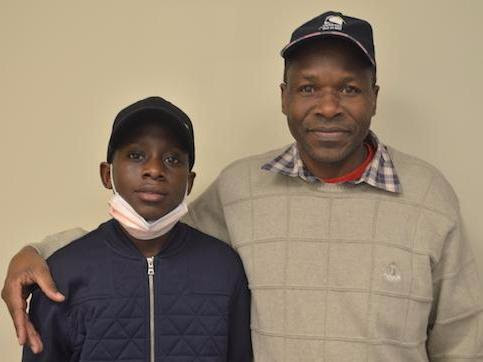 Dixon and his dad, Leonard
Unfortunately, the worst happened to Dixon's sister and she died of complications from her SCA.  Dixon's father, determined to prevent this for his son, began researching and calling clinics around the world looking for answers that might save his son's life.  His resolve led them to a SCA trial at NIH and a long trip from Uganda to Bethesda, Maryland last summer.
After an intensive workup, Dixon underwent an experimental stem cell transplant in the hope that the transplanted cells would make normal red blood cells.  This procedure required that Dixon and one of his parents stay close to the NIH for six months after the transplant to monitor the engraftment of the new stem cells and watch for complications.  Dixon and his father made Bethesda their temporary home.
After many months away, Dixon's father was asked to return to Uganda or risk losing his job. This is when Friends of Patients at the NIH stepped in to help.  Friends helped cover some of the airfare costs of a parental switch – Dixon's father returned to his job in Uganda and his mother, after taking a leave of absence from her work, flew to be at Dixon's side as he continued the final months of his clinical trial.  Without this vital transportation support provided by Friends, Dixon would not have been able to stay in the trial.
Our young hero is doing well – the engraftment looks good and complications have been minimal.  The outcome of this medical adventure not only has the opportunity to benefit Dixon, but the future of young people with SCA around the globe. Thank you, Dixon!
This is the first installment of a two-part story.  Next month in our newsletter, learn about the researcher responsible for the SCA trial and get an update on Dixon's progress.
---
NETE – Sandeep Somaiya and Jolly Vasani
Committed to Friends and NIH Patients
"What do the patients at NIH need? What can NETE do to help?" are common questions asked by Sandeep and his wife Jolly. Jolly is NETE's President and Sandeep is NETE's Managing Director and a Friends of Patients Board member.
NETE SOLUTIONS is a management consulting firm based in McLean, VA with expertise in both the federal government agency and commercial company arenas.
NETE works with Friends of Patients at the NIH to support patient care delivered in the Clinical Center.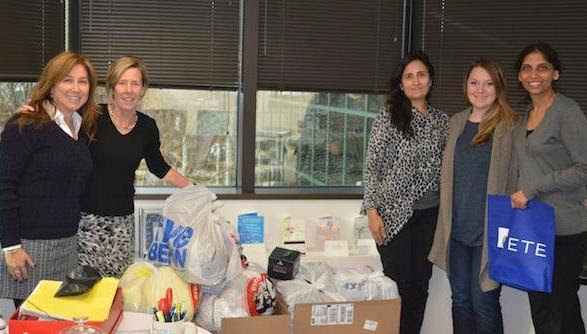 Picking up NETE's gifts for patients -Heidi Grolig, Diane Baker, Jolly Vasani, Daniela Butcher, Avneet Hundal
NETE is an annual Friend's Platinum Sponsor with regular gifts of $25,000 to help ensure that patients who need it have access to housing, transportation and emotional support while at the NIH.  In addition, NETE and its employees have stepped forward in a host of other ways, big and small.
NETE provided holiday gifts to some of the teen patients at the Clinical Center — fulfilling their wish list…. headphones, sports equipment and pajamas topped the list. Jolly and Sandeep are also proud of how NETE employees support Friends of Patients events.  The spring golf tournament and the Annual Friends Night Out Gala are two employee favorites.
When Jolly and Sandeep talk about NETE's commitment to Friends of Patients at the NIH, it is clear that they place great priority on both the monetary support provided as well as the hands-on involvement.  NETE truly values the work that Friends does to support patients so that they can concentrate on healing.
---
Talking Music and Science with Yo-Yo Ma
NIH's gingerbread house competition, CancerMoonshot blasts off and impresses our Director, Dr. Francis Collins and our special guest Yo-Yo Ma.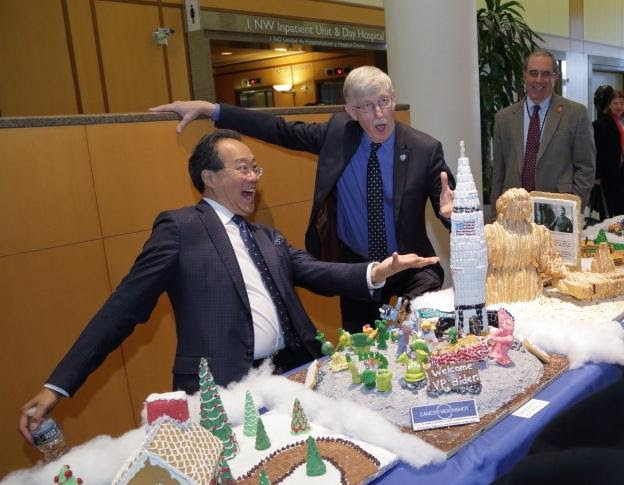 Yo-Yo Ma and Dr. Francis Collins enjoying the gingerbread competition at the NIH Clinical Center.
Become a Friend
Friends of Patients at the NIH provides support for patients at the NIH Clinical Center by offer financial assistance for housing and utility expenses, access to respite care and support for travel costs. Friends champions NIH patients, helping to cover their essential needs so they can focus on recovery, healing and their unique role in health discoveries.