From Nov 2017 Newsletter…
It was a party with a mission at Friends of Patients at the NIH's recent annual Gala in Bethesda. Patients and researchers were the guests of honor. Seventeen-year-old Dixon, who has Sickle Cell Disease, and his father, Leonard, both from Uganda, were featured in a video describing how his illness can be cured through a stem cell transplant. Twenty-year-old Destiny joined her mother, Barbara, at the Gala to describe her journey to be free from the rare blood cell disorder GATA 2 deficiency. And Sarah Rosenfeld, a mother of two from suburban Washington, thanked her NIH neurosurgeon, Dr. John Heiss, for removing the spinal tumor that threatened her life.
These brave patients, working closely with talented NIH researchers and clinicians, are helping to create tomorrow's lifesaving treatments every day. Friends at NIH salutes them all.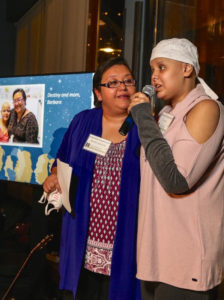 Destiny Tankersley and her mother, Barbara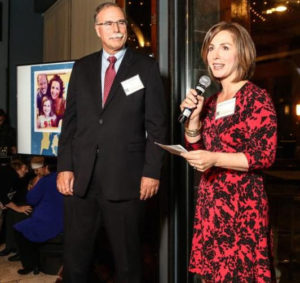 Sarah Rosenfeld and
Dr. John Heiss, Neurosurgeon