Faith Williams, owner of Liberal Arts Inc., a graphic arts company in Germantown, MD, partners with Friends at NIH to support families because it's a "good fit." As a cancer survivor, she knows first hand the challenges many families face when they come to the NIH.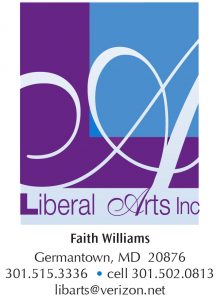 As a child in Kenya, Faith loved to draw and readily responded when her mother would say,"Here, draw this spoon." When she wanted to study art in college, despite her father's attempts to steer her elsewhere, she majored in Design with a minor in Art.
When she was pregnant with her son, 24 years ago, her employer died and she purchased his business, Liberal Arts. With it she inherited a National Institutes of Health contract. That's how she met Friends at NIH – and where she's opted to so generously "give back." Thank you for your support, Faith, and your beautiful artwork.