Justapra Singh holds the distinctive title of Special Olympics Golf Gold Medal Winner in April, 2018 at Macau, China. The 16-year-old from Texas, nicknamed Jus, joined Friends' last week to play golf and speak at our golf tournament luncheon, along with his father, Dr. Mukhbir Singh. Jus stood out on the course in his fluorescent orange t-shirt and as the youngest golfer.
Jus has been a patient at the NIH since he was seven. A year before, after a series of strange neurological symptoms and missed diagnoses, he was rushed to the emergency room where doctors told his parents he had minimal brain activity and they should take him home to die.
But Jus miraculously survived. He was diagnosed with a rare metabolic disorder called CBLC and referred to the National Institutes of Health. CBLC prevents the body from breaking down some amino acids in proteins which causes organ-damaging toxic substances to build up.
Jus had severe nerve damage in his legs when he left the hospital that first time. He couldn't walk, talk, swallow or even turn over. "Doctors told me he needed to activate new neuro pathways in his brain. His legs were weak and he couldn't ever play a contact sports. So what was he to do? I was a golfer, so golf was the answer," Dr. Singh explained.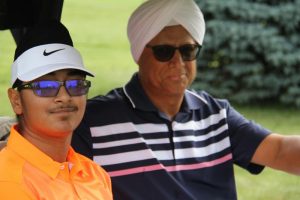 Jus's parents took him to the golf course to feel the wind on his face from his wheelchair. He soon wanted to play from his wheelchair chair, then standing with braces as he does now. At the NIH, at the Metabolic Clinical Research Unit under the National Human Genome Research Institute, Jus enrolled in treatments that include injections to curb the effects of his disease and intense rehab.
"Golf played a big role in rehab," Jus explains. "It gives me an escape from my illness to be a normal teen. I don't have a golf team in my high school, and I like to be competitive, so I trained for the Special Olympics. My two best friends are athletes and we root for each other. It makes life "normal," he added.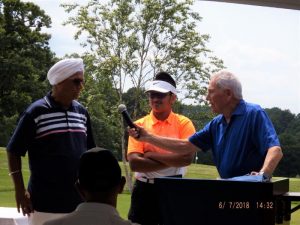 The Singhs moved from Utah to Texas so Jus could play year round which he does everyday. His Dad, known as Mike, became his coach, and with an engineering background, focused on customizing Jus's swing to match the challenges of his physical handicaps.
What does Jus think about dual role of his coach and Dad? "It can be good and bad. He can yell at me when I mess up, but he's my dad. He's the best caddy and chooses all the right clubs for me," Jus says with a smile.
Jus is a champion, both his swing and inspiring story. Good luck, Jus, and Happy Father's Day, Dr. Singh.
Please consider honoring your Dad this Father's Day with a gift to Friends at NIH to provide financial and emotional support to patients and families, like the Singhs.